DIFFERENTIATION BETWEEN ALLERGIC AND NON-ALLERGIC RHINITIS IN CHILDREN WITH CHRONIC RHINITIS, ALLERGY CLINIC, PHRAMONGKUTKLAO HOSPITAL
Tanuntorn Songchitsomboon

Division of Allergy and Immunology, Department of Pediatrics, Phramongkutklao Hospital and Phramongkutklao College of Medicine

Anupong Sirisungreung

Department of Military and Community Medicine, Phramongkutklao College of Medicine

Yiwa Suksawat

Division of Allergy and Immunology, Department of Pediatrics, Phramongkutklao Hospital and Phramongkutklao College of Medicine

https://orcid.org/0000-0002-3083-743X
Keywords:
Chronic rhinitis, Allergic rhinitis, Non-allergic rhinitis, Thai children, Aeroallergen
Abstract
Background: Chronic rhinitis in children is a common problem. Investigation to diagnose allergic rhinitis (AR) using a skin prick test for aeroallergens requires a specialist doctor, which is not simply performed in primary health care facilities. Therefore, diagnosing patients with AR and non-allergic rhinitis (NAR) is based on clinical symptoms essential for treatment planning. This study compared clinical symptoms between AR and NAR, comorbidities, disease severity, and common aeroallergen sensitization.
Methods: A retrospective descriptive study was conducted among participants aged between 2-18 years with chronic rhinitis who were treated at the Department of Allergy and Immunology, Division of Pediatrics, Phramongkutklao Hospital, between 2014 and 2018. The medical records were reviewed on clinical symptoms, allergic test results, environmental data, and the severity according to Allergic Rhinitis and its Impact on Asthma (ARIA) classification. If the patient tested positive for aeroallergen, the allergist diagnosed AR. NAR is characterized by the same symptoms but with a negative skin prick test.
Results: Three hundred and seven participants were included. Among these patients, 226 (73.6 %) were categorized as AR, and 81 (26.4%) were NAR. The AR group had a higher percentage of males than the NAR group. Nasal pruritus and ocular symptoms were more commonly found in AR than in NAR. Regarding comorbidities, both groups had similar snoring, sinusitis, asthma, and atopic dermatitis. The most common aeroallergens among AR patients were Dermatophagoides pteronyssinus (82.7%), Dermatophagoides farinae (81.4%), followed by American cockroaches (38.1%), and German cockroaches (37.6%). Cat owners were associated with cat sensitization in AR patients (OR =2.77; 95% CI = 1.27-5.88).
Conclusions: In this study, the proportion of AR was higher than NAR. Nasal pruritus, ocular symptoms, or both strongly supported AR. The most common aeroallergen sensitization was house dust mites, followed by cockroaches. Initial treatment with antihistamine and other drugs can improve the severity of the disease.
Downloads
Download data is not yet available.
References
Dykewicz MS, Wallace DV, Amrol DJ, Baroody FM, Bernstein JA, Craig TJ, et al. Rhinitis 2020: A practice parameter update. J Allergy Clin Immunol 2020; 146: 721-67. DOI: https://doi.org/10.1016/j.jaci.2020.07.007
Trakultivakorn M, Sangsupawanich P, Vichyanond P. Time trends of the prevalence of asthma, rhinitis and eczema in Thai children-ISAAC (International Study of Asthma and Allergies in Childhood) Phase Three. J Asthma 2007; 44: 609-11. DOI: https://doi.org/10.1080/02770900701540119
Chiang WC, Chen YM, Tan HK, Balakrishnan A, Liew WK, Lim HH, et al. Allergic rhinitis and non-allergic rhinitis in children in the tropics: prevalence and risk associations. Pediatr Pulmonol 2012; 47: 1026-33. DOI: https://doi.org/10.1002/ppul.22554
Mastin T. Recognizing and treating noninfectious rhinitis. J Am Acad Nurse Pract 2003; 15: 398-409. DOI: https://doi.org/10.1111/j.1745-7599.2003.tb00414.x
Pinart M, Keller T, Reich A, Fröhlich M, Cabieses B, Hohmann C, et al. Sex-related allergic rhinitis prevalence switch from childhood to adulthood: a systematic review and meta-analysis. Int Arch Allergy Immunol 2017; 172: 224-35. DOI: https://doi.org/10.1159/000464324
Collin SM, Granell R, Westgarth C, Murray J, Paul E, Sterne JA, et al. Pet ownership is associated with increased risk of non-atopic asthma and reduced risk of atopy in childhood: findings from a UK birth cohort. Clin Exp Allergy 2015; 45: 200-10. DOI: https://doi.org/10.1111/cea.12380
Goldhahn K, Bockelbrink A, Nocon M, Almqvist C, DunnGalvin A, Willich SN, et al. Sex-specific differences in allergic sensitization to house dust mites: a meta-analysis. Ann Allergy Asthma Immunol 2009; 102: 487-94. DOI: https://doi.org/10.1016/S1081-1206(10)60122-6
Vichyanond P, Suratannon C, Lertbunnaphong P, Jirapongsananuruk O, Visitsunthorn N. Clinical characteristics of children with nonallergic rhinitis vs with allergic rhinitis. Asian Pac J Allergy Immunol 2010; 28: 270-4.
Visitsunthorn N, Chaimongkol W, Visitsunthorn K, Pacharn P, Jirapongsananuruk O. Great flood and aeroallergen sensitization in children with asthma and/or allergic rhinitis. Asian Pac J Allergy Immunol 2018; 36: 69-76.
Lee KS, Yum HY, Sheen YH, Park YM, Lee YJ, Choi BS, et al. Comorbidities and phenotypes of rhinitis in Korean children and adolescents: a cross-sectional, multicenter study. Allergy Asthma Immunol Res 2017; 9: 70-8. DOI: https://doi.org/10.4168/aair.2017.9.1.70
Westman M, Stjärne P, Asarnoj A, Kull I, van Hage M, Wickman M, et al. Natural course and comorbidities of allergic and nonallergic rhinitis in children. J Allergy Clin Immunol 2012; 129: 403-8. DOI: https://doi.org/10.1016/j.jaci.2011.09.036
Lee SH, Choi JH, Suh JD, Chung S, Hong SC, Kim JK, et al. Natural course of allergic and nonallergic rhinitis after 2 years in Korean children. Clin Exp Otorhinolaryngol 2016; 9: 233-7. DOI: https://doi.org/10.21053/ceo.2015.01130
La Mantia I, Andaloro C. Demographics and clinical features predictive of allergic versus non-allergic rhinitis in children aged 6-18 years: A single-center experience of 1535 patients. Int J Pediatr Otorhinolaryngol 2017; 98: 103-9. DOI: https://doi.org/10.1016/j.ijporl.2017.04.044
Fröhlich M, Pinart M, Keller T, Reich A, Cabieses B, Hohmann C, et al. Is there a sex-shift in prevalence of allergic rhinitis and comorbid asthma from childhood to adulthood? A meta-analysis. Clin Transl Allergy 2017; 7: 44. DOI: https://doi.org/10.1186/s13601-017-0176-5
Young T, Finn L, Kim H. Nasal obstruction as a risk factor for sleep-disordered breathing. The University of Wisconsin Sleep and Respiratory Research Group. J Allergy Clin Immunol 1997; 99: S757-62. DOI: https://doi.org/10.1016/S0091-6749(97)70124-6
Chawes BL, Bønnelykke K, Kreiner-Møller E, Bisgaard H. Children with allergic and nonallergic rhinitis have a similar risk of asthma. J Allergy Clin Immunol 2010; 126: 567-73.e1-8. DOI: https://doi.org/10.1016/j.jaci.2010.06.026
Waithayawongsakul K, Lao-Araya M. Time trends of skin prick test reactivity to inhalant allergens among allergic children in Chiang Mai. Chiang Mai Med J 2021; 60: 475-86.
Tungtrongchitr A, Sookrung N, Munkong N, Mahakittikun V, Chinabut P, Chaicumpa W, et al. The levels of cockroach allergen in relation to cockroach species and allergic diseases in Thai patients. Asian Pac J Allergy Immunol 2004; 22: 115-21.
Simpson A, Custovic A. Pets and the development of allergic sensitization. Curr Allergy Asthma Rep 2005; 5: 212-20. DOI: https://doi.org/10.1007/s11882-005-0040-x
Van Gysel D, Govaere E, Verhamme K, Doli E, De Baets F. Exposure to pets and the association with sensitization and allergic disease in Belgian schoolchildren. Allergy 2009; 64: 663-4. DOI: https://doi.org/10.1111/j.1398-9995.2009.01974.x
Kim HY, Shin YH, Han MY. Determinants of sensitization to allergen in infants and young children. Korean J Pediatr 2014; 57: 205-10. DOI: https://doi.org/10.3345/kjp.2014.57.5.205
Hamizan AW, Rimmer J, Alvarado R, Sewell WA, Kalish L, Sacks R, et al. Positive allergen reaction in allergic and nonallergic rhinitis: a systematic review. Int Forum Allergy Rhinol 2017; 7: 868-77. DOI: https://doi.org/10.1002/alr.21988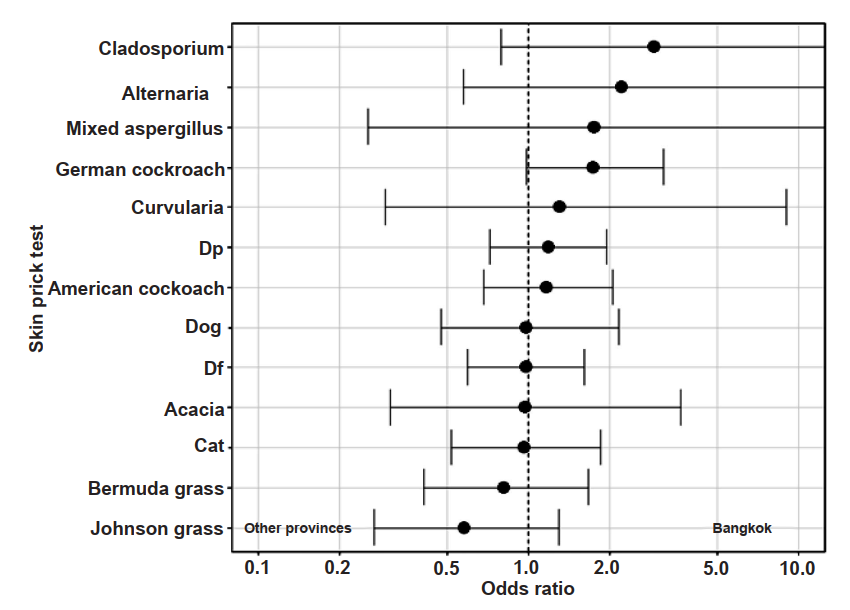 How to Cite
1.
Songchitsomboon T, Sirisungreung A, Suksawat Y. DIFFERENTIATION BETWEEN ALLERGIC AND NON-ALLERGIC RHINITIS IN CHILDREN WITH CHRONIC RHINITIS, ALLERGY CLINIC, PHRAMONGKUTKLAO HOSPITAL. J Southeast Asian Med Res [Internet]. 2022Sep.21 [cited 2023Oct.1];60:e0125. Available from: https://www.jseamed.org/index.php/jseamed/article/view/125
Section
Original Articles
Copyright (c) 2022 Journal of Southeast Asian Medical Research
This work is licensed under a Creative Commons Attribution-NonCommercial-NoDerivatives 4.0 International License.
The Journal of Southeast Asian Medical Research will hold the copyright to all published articles. Copyright forms are handled by the publisher's production department once a manuscript is accepted and scheduled for publication.