PREVALENCE OF SEXUAL DYSFUNCTION AND SEXUAL ATTITUDES AMONG POSTMENOPAUSAL FEMALES PATIENTS IN PHRAMONGKUTKLAO HOSPITAL
Kritsada Srithanaphakarangkul

Department of Obstetrics & Gynecology, Phramongkutklao Hospital
Keywords:
Sexual dysfunction, Attitude, Postmenopausal women, Female sexual function index
Abstract
Background: Sexual function and attitudes towards sexuality among postmenopausal women have been investigated in many ethnicities, Nonetheless, a limited number of studies have been conduected among Thai postmenopausal women.
Objective: The study aimed to determine the prevalence of sexual dysfunction and sexual attitudes among Thai postmenopausal women.
Methods: Adescriptive cross-sextional study was conducted from 1st, 2018 to 31 July 31st, 2018 at the Gynecologic Outpatient Department, Pharmingkutklao Hospital. In all, 293 postmenopausal women. aged 45 years or over were recruited in the study. The Thai version Female Sexual Function Index (Thai-FSFI) questionnaire was used to evaluate the sexual function for which scores les than 26.5 constituted sexual dysfunction. To assess attitudes, validated questionnaires were used to evaluate using scores 0-8, 9-16 and 17-24 as negative, neutral and positive, respectively. 
Results: The participant mean age was 55.53 ± 5.07 years. The pravalence of sexual dysfunction was 96.59% (282/293), which was significantly higher compared with those with those with normal sexual function. Postmenopausal women with sexual dysfunction were significantly order (p<0.001), had a longer menopause period (p=0.001), had spouses at old age (p<0.001) and had underlying diseases (p=0.034) significantly more than those with normal sexual function. Regarding sexual attitudes. 52.56% had positive attitudes while 4.44% had negative attitudes.
Conclusion: Sexual dysfunction is a common problem among Thai postmenopausal women. However, most had positive sexual attitudes.
Downloads
Download data is not yet available.
References
Anek A, P.MD. sexuality In Anek A,P.MD. editor. Human sexuality in Obstetrics and Gynecology 1st .Bangkok: Pimpdee; 2005.1-9
Master EH, Johnson VE. Human sexual response. Boston: Little Brown; 1966.
Kaplan HS. The new sex therapy. London: Bailliere Trindall, 1974.
Sanchez SC, Cherdraui P, Perez-Lopez FR, Ortiz-Benegas ME, Palacios-De Franco Y. Evaluation of sexuality in Paraguayan mid-aged female urban population using the six-item Female Sexual Function Index. Climacteric. 2016; 19(3): 256-60.
Jamali S, Ratimanian A, Javadpoor S. Examining the sexual function and related attitudes among aged women: A cross-sectional study. Int J Reprod Biomed (Yazd). 2016; 14 (1): 29-38.
Woods NF, Mitchell ES, Smith-Di Julio K. Sexual desire during the menopausal transition and early postmenopause: observations from the Seattle Midlife Women's Health Study. J Womens Health (Larchmt). 2010; 19 (2): 209-18.
Silva GM, Lima SM, Moraes JC. Evaluation of sexual function in postmenopause women with metabolic syndrome. Rev Bras Ginecol Obstet. 2013; 35(7): 301-8.
Dhillon HK, Singh HJ, Ghaffar NA. Sexual function in menopausal women in Kelantan, Malaysia. Maturitas. 2005; 52 (3-4): 256-63.
Nazarpour S, Simbar M, Ramezani Tehrani F, AlaviMajd H. Quality of life and sexual function in postmenopausal women. J Women Aging. 2017:1-11.
Rosen R, Brown C, Heiman J, Leiblum S, Meston C, Shabsigh R, et al. The Female Sexual Function Index (FSFI): A multidimensional self-report instrument for the assessment of female sexual function. J Sex Marital Ther. 2000; 26 (2): 191-208.
Chayachinda C, Titapant V, Ungkanungdecha A. Dyspareuria and sexual dysfunction after vaginal delivery in Thai primiparous women with episiotomy. J Sex Med. 2015; 12 (5): 1275-82.
Kerdarunsuksri A, Manusirivithaya S. Attitudes and sexual function in Thai pregnant women. J Med Assoc Thai. 2010; 93 (3): 265-71.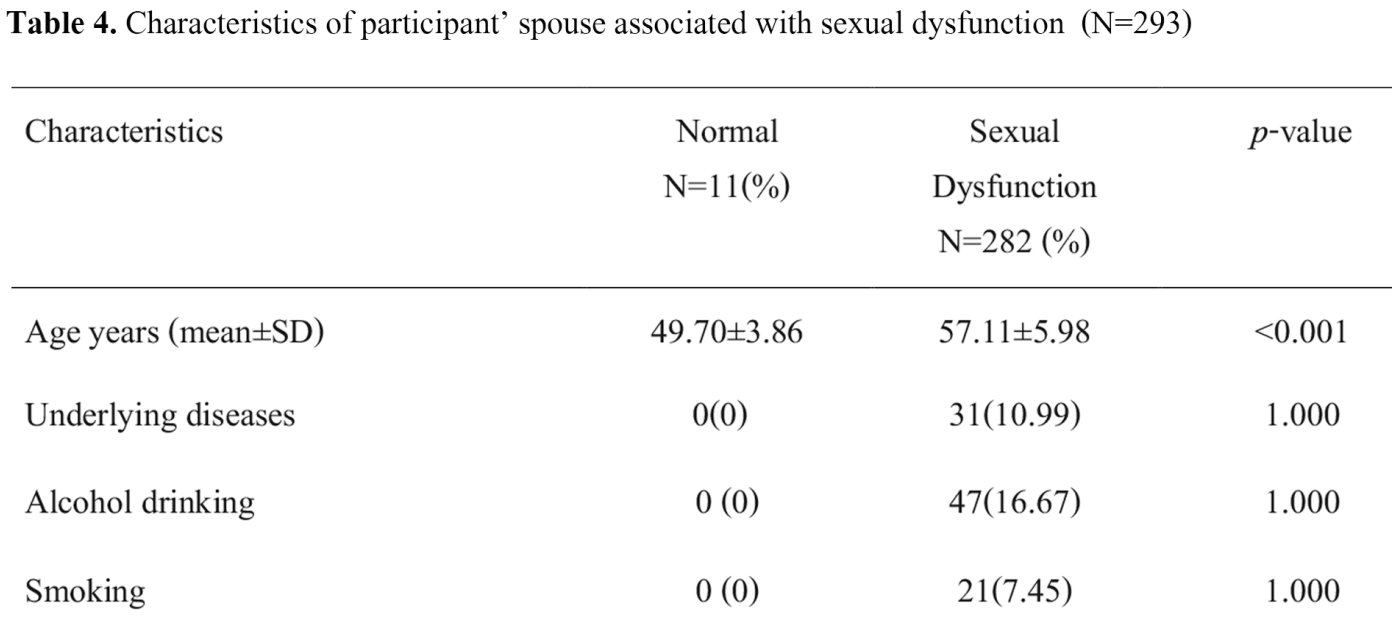 How to Cite
1.
Srithanaphakarangkul K. PREVALENCE OF SEXUAL DYSFUNCTION AND SEXUAL ATTITUDES AMONG POSTMENOPAUSAL FEMALES PATIENTS IN PHRAMONGKUTKLAO HOSPITAL. J Southeast Asian Med Res [Internet]. 2019Dec.1 [cited 2022Jan.25];3(2):82-7. Available from: https://www.jseamed.org/index.php/jseamed/article/view/52
Section
Original Articles
Copyright (c) 2019 Journal of Southeast Asian Medical Research
This work is licensed under a Creative Commons Attribution-NonCommercial-NoDerivatives 4.0 International License.
Copyright to all published articles will be held by The Journal Medical Research. Copyright forms are handled by the production department of the publisher once a manuscript is accepted and scheduled for publication.