HETEROTOPIC OSSIFICATION FOLLOWING NONCEMENTED HIP REPLACEMENT: A COMPARATIVE STUDY USING MINIMAL INVASIVE SURGERY VS. CONVENTIONAL ANTEROLATERAL APPROACH
Piyapong Chinkam-akrapat

Pakchongnana Hospital, Nakhon Ratchasima, Thailand
Keywords:
Heterotopic ossification, Minimal invasive surgery, Conventional anterolateral approach
Abstract
Background:  A conventional anterolateral approach was previously a remedy for total hip replacement. Currently, an intermuscular approach is relatively safe, provides excellent exposure and causes less soft tissue damage than the traditional approach.
Objective: The study aimed to compare heterotopic ossification (HO) between minimal invasive surgery (MIS) and conventional anterolateral approach among patients having   noncemented total hip replacement.
Methods: A retrospective study was conducted among 47 patients (52 sites) with noncemented total hip replacement who were randomly divided in 2 groups. The first group received treatment with MIS whereas the second group received the conventional anterolateral approach. The incidence of HO was recorded and followed-up for a minimum of 12 months. The demographic data of both groups were analyzed using the chi-square test and the discrete data were analyzed using the chi-square test and Fisher's exact test.
Results: The incidence of HO in the MIS and conventional anterolateral approach group were within 37.9 and 56.5%, respectively. After 12 months of followed-up, the incidence of HO in the MIS group did not significantly differ compared with that of the conventional group (p=0.291). Severe HO was within 13.79 and 8.69%, respectively (p=0.682) and neither group required further surgery.
Conclusion:  The MIS group showed a lower incidence of HO than that found in the conventional anterolateral approach group without statistical significance.
Downloads
Download data is not yet available.
References
Biz C, Pavan D, Frizziero A, Baban A, Iacobellis C. Heterotopic ossification following hip arthroplasty: a comparative radiographic study about its development with the use of three different kinds of implants. J Orthop Surg Res 2015; 10: 176.
Zhu Y, Zhang F, Chen W, Zhang Q, Liu S, Zhang Y. Incidence and risk factors for heterotopic ossification after total hip arthroplasty: a meta-analysis. Arch Orthop Trauma Surg 2015; 135 : 1307-14.
Alijanipour P, Patel RP, Naik TU, Parvizi J. Heterotopic ossification in primary total hip arthroplasty using the direct anterior vs direct lateral approach. J Arthroplasty 2017; 32: 1323 -7.
Kutzner KP, Hechtner M, Pfeil D, Rehbein P, Kovacevic MP, Schneider M, et al. Incidence of heterotopic ossification in minimally invasive short-stem THA using the modified anterolateral approach. Hip Int 2017 ; 27:162- 8.
Tan J, Chen H, Chen C, Liang X, Huang W. The strength and function of hip abductors following anterolateral minimally invasive total hip arthroplasty. Chin J Traumatol 2014;17:73-8.
Hug KT, Alton TB, Gee AO. Brooker classification of heterotopic ossification after total hip arthroplasty . Clin Orthop Relat Res 2015; 473: 2154–7.
Regis D, Sandri A, Sambugaro E. Incidence of heterotopic ossification after surface and conventional total hip arthroplasty: a comparative study using anterolateral approach and indomethacin prophylaxis. Biomed Res Int 2013. doi: 10.1155/2013/293528.
Li B, Zhang B, Ding Z, Liu Y, Dai M. Anterolateral intermuscular approach for type A2 intertrochanteric fractures: a cadaveric study. Int Surg 2015; 100:314-9.
Repantis T, Bouras T, Korovessis P. Comparison of minimally invasive approach versus conventional anterolateral approach for total hip arthroplasty: a randomized controlled trial.Eur J Orthop Surg Traumatol 2015; 25: 111- 6.
Hürlimann M, Schiapparelli FF, Rotigliano N, Testa E, Amsler F, Hirschmann MT. Influence of surgical approach on heterotopic ossification after total hip arthroplasty - is minimal invasive better? A case control study. BMC Musculoskelet Disord 2017; 18: 27.
Aljurayyan A, Tanzer D, TanzerM. Acute revision hip arthroplasty: a previously unrecognized risk factor for heterotopic ossification. Eur J Orthop Surg Traumatol 2016; 26: 183-8.
Kantak AP, Shah NN. Extensive surgical wound lavage reduces the incidence and severity of heterotopic ossification in primary total hip replacement: a study of 175 hip replacements. Hip Pelvis 2017; 29: 234- 9.
Liu JZ, Frisch NB, Barden RM, Rosenberg AG, Silverton CD, Galante JO. Heterotopic ossification prophylaxis after total hip arthroplasty: randomized trial of 400 vs 700 cGy. J Arthroplasty 2017; 32: 1328-34.
Kan SL, Yang B, Ning GZ, Chen LX, Li YL, Gao SJ, et al. Nonsteroidal anti-inflammatory drugs as prophylaxis for heterotopic ssification after total hip arthroplasty: a systematic review and meta-analysis. Medicine (Baltimore) 2015; 94: 828.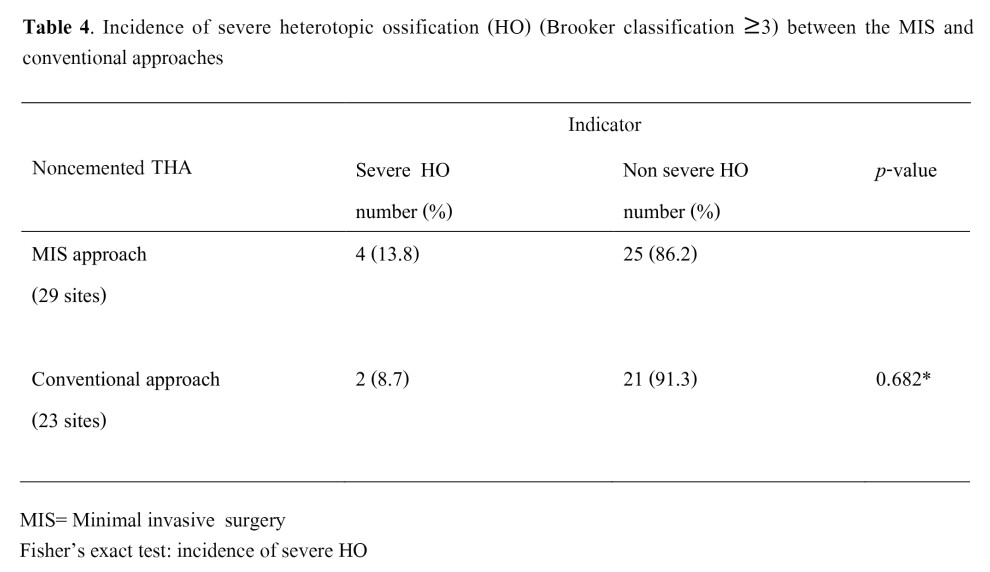 How to Cite
1.
Chinkam-akrapat P. HETEROTOPIC OSSIFICATION FOLLOWING NONCEMENTED HIP REPLACEMENT: A COMPARATIVE STUDY USING MINIMAL INVASIVE SURGERY VS. CONVENTIONAL ANTEROLATERAL APPROACH. J Southeast Asian Med Res [Internet]. 2019Jun.10 [cited 2022Jan.25];3(1):18-4. Available from: https://www.jseamed.org/index.php/jseamed/article/view/45
Section
Original Articles
Copyright (c) 2019 Journal of Southeast Asian Medical Research
This work is licensed under a Creative Commons Attribution-NonCommercial-NoDerivatives 4.0 International License.
Copyright to all published articles will be held by The Journal Medical Research. Copyright forms are handled by the production department of the publisher once a manuscript is accepted and scheduled for publication.