OXALIPLATIN RE-INTRODUCTION THERAPY AMONG PATIENTS WITH ADVANCE STAGE COLORECTAL CANCER
Sahaphol Anannamcharoen

Department of Surgery, Phramongkutklao Hospital, Bangkok, Thailand

Chinnaklit Boonya-Ussadon

Department of Surgery, Phramongkutklao Hospital, Bangkok, Thailand
Keywords:
Oxaliplatin, Reintroduction therapy, Palliative chemotherapy, Advanced colorectal adenocarcinoma, Colorectal cancer
Abstract
Background: : Retreating with prior chemotherapeutic regimens is a possible option for palliative treatment for patients with advanced stage colorectal cancer (CRC). Objective: This study aimed to examine the feasibility and clinical outcomes of oxaliplatin re-introduction therapy.
Methods: The present study was a prospective case series of patients with advanced stage colorectal adenocarcinoma who were previously treated and re-treated with oxaliplatin combination therapy at Phramongkutklao Hospital between April 1st, 2011 and March 30th, 2014. Treatment regimens are described below. First, FOLFOX4 (14-day cycles of oxaliplatin 85 mg/m2, folinic acid 200 mg/m2) was given days 1-2 plus fluorouracil 400 mg/m2 (bolus) and 600 mg/m2 (continuous 22 hours infusion). Second, modificd FOLFOX6 (oxaliplatin 85 mg/m2) was given day I with calcium folinate 400 mg/m2 as a 2-hour infusion followed by bolus 5-fluorouracil 400 mg/m2 and a 46-hour infusion of 5-fluorouracil 2,400 mg/m2). Similarly, XELOX (130 mg/m2 intravenous oxaliplatin) was provided for 2 hours day 1 plus oral capecitabine 1,000 mg m2 twice daily for 2 weeks from day 1. Treatment was continued until disease progression (PD), intolerability to therapy, poor performance status, withdrawal of consent or death occurred. Authors evaluated tolerability, feasibility, types and rate of untoward medical occurrences due to adverse reactions of PD.
Results: Thirteen patients with CRC were recruited in the study. The median cycles (range) of receiving oxaliplatin-based chemotherapy before re-introduction therapy was 8 (3-15) cycles. The median age (range) was 50 (27-78) years. Etiologies of treatment cessation were recorded by number of patients as follows: tumor progression (6), lost to follow-up (1), refused to receive further treatment (1), allergic reaction (2) and physical deterioration (2). Eflicacy of the treatment was assessed in 10 of 13 patients. Of 10 patients, 2 developed drug allergies and 1 was lost to follow-up. Six patients (60%) had PD while 4 patients (40%) had stabilized disease measured by the Response Evaluation Criteria in Solid Tumors (RECIST).
Conclusion: Reintroducing oxaliplatin combination chemotherapy is one of the treatments in advanced stage CRC. In this study, physical deterioration and tumor progression were the main etiologies of treatment cessation.
Downloads
Download data is not yet available.
References
Townsend AR, Bishnoi S, Broadbridge V, Beeke C, Karapetis CS, Jain K, et al. Rechallenge with oxaliplatin and fluoropyrimidine for metastatic colorcctal carcinoma after prior therapy. Am J Clin Oncol 2013; 36: 49-52.
Eisenhauer EA, Therasse P, Bogaerts J, Schwartz LH, Sargent D, Ford R, et, al. New response evaluation criteria in solid tumors: revised RECIST guideline (version 1.1). Eur J Cancer 2009; 45: 228-47.
Tournigand C, Cervantes A, Figer A, Lledo G, Flesch M, Buyse M, et al. OPTIMOX1: a randomized study of FOLFOX4 or FOLFOX7 with oxaliplatin in a stop-and-go fashion in advanced colorectal cancer-a GERCOR study. J Clin Oncol 2006;24: 394-400.
Maindrault-Goebel F, Tournigand C, Andre T, Carola E, Mabro M, Artru P, el, al. Oxaliplatin reintroduction in patients previously treated with leucovorin, fluorouracil and oxaliplatin for metastatic colorectal cancer. Ann Oncol 2004:15:1210-14.
Shao YY, Hu FC, Liang JT, Chiu WT, Cheng AL, Yang CH. Characteristics and risk factors of oxaliplatin related hypersensitivity reactions. J Formos Med Assoc 2010; 109:362-8.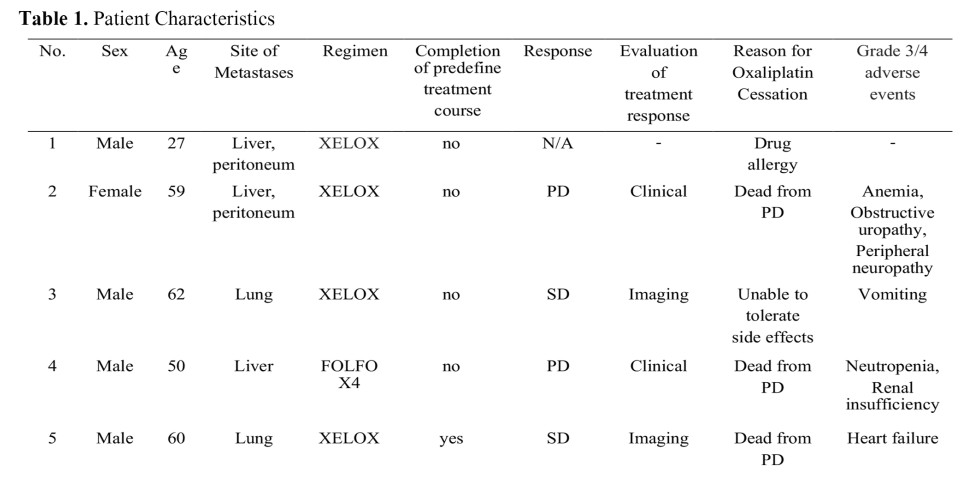 How to Cite
1.
Anannamcharoen S, Boonya-Ussadon C. OXALIPLATIN RE-INTRODUCTION THERAPY AMONG PATIENTS WITH ADVANCE STAGE COLORECTAL CANCER. J Southeast Asian Med Res [Internet]. 2019Jun.9 [cited 2022Jan.25];3(1):40-4. Available from: https://www.jseamed.org/index.php/jseamed/article/view/48
Section
Original Articles
Copyright (c) 2019 Journal of Southeast Asian Medical Research
This work is licensed under a Creative Commons Attribution-NonCommercial-NoDerivatives 4.0 International License.
Copyright to all published articles will be held by The Journal Medical Research. Copyright forms are handled by the production department of the publisher once a manuscript is accepted and scheduled for publication.