UNUSUAL PRESENTATION OF MALIGNANT THYMOMA ASSOCIATED NEPHROTIC SYNDROME WITH FOCAL SEGMENTAL GLOMERULOSCLEROSIS: A CASE REPORT
Kamolphop Koomtanapat

Department of Medicine, Surin Hospital, Surin Province

Suwapee Watcharahirun

Department of Pathology, Surin Hospital, Surin Province

Krit Weerachinachote

Renal Unit, Department of Medicine, Prasart Hospital, Surin Province

Chalermchai Lertanansit

Department of Medicine, Surin Hospital, Surin Province
Keywords:
Malignant thymoma-associated nephrotic syndrome, Paraneoplastic nephrotic syndrome
Abstract
Paraneoplastic syndromes (PS) are the consequences of hormones or immune cross-reactivity produced by a tumor. Nephrotic syndrome (NS) is an extremely rare PS resulting from a thymoma. Here, the case of a 55-year-old woman presenting progressive generalized edema and foamy urine is reported. The patient's chest CT scan showed anterior mediastinum with intramural punctate calcification size 8.6x7.0x10.2 cm. The case was reviewed at the multi-dispensary team conference, and the clinical diagnosis was an unusual presentation of malignant thymoma known as NS. After that, a thymectomy and kidney biopsy was performed. Histopathologic examination showed Thymoma type B and focal segmental glomerulosclerosis, respectively. Therefore, we considered it paraneoplastic nephrotic syndrome (PNS), without glucocorticoids, immunosuppressants or other drugs to treat NS. After the thymectomy, her clinical spontaneous resolved at the first follow-up, proposing a causative relationship between the two conditions.
Downloads
Download data is not yet available.
References
Nelson Jr RP, Pascuzzi RM. Paraneoplastic syndromes in thymoma: an immunological perspective. Curr Treat Options Oncol 2008; 9: 269–76. DOI: https://doi.org/10.1007/s11864-008-0081-1
Hull RP, Goldsmith DJ. Nephrotic syndrome in adults. Brit Med J 2008; 336: 1185-98. DOI: https://doi.org/10.1136/bmj.39576.709711.80
Pappy L, Bernstein M, Babayev R. Thymoma and nephrotic syndrome: A rare simultaneous finding. J Med Case Rep 2014; 8: 212.
Hsiao SY, Chang KY, Chang JY, Su WC. Nephrotic syndrome associated with thymoma. J Cancer Res Practice 2014; 1: 233-40.
Orth SR, Ritz E. The nephrotic syndrome. N Engl J Med 1998; 338: 1202–11. DOI: https://doi.org/10.1056/NEJM199804233381707
Jhaveri KD, Shah HH, Calderon K, Campenot ES, Radhakrishnan J. Glomerular diseases seen with cancer and chemotherapy: a narrative review. Kidney Int 2013; 84: 34–44. DOI: https://doi.org/10.1038/ki.2012.484
Karras A, de Montpreville V, Fakhouri F, Grünfeld JP, Lesavre P. Renal and thymic pathology in thymoma-associated nephropathy: report of 21 cases and literature review. Nephrol Dial Transplant 2005; 20: 1075–82. DOI: https://doi.org/10.1093/ndt/gfh615
Yamauchi J, Ubara Y, Suwabe T. Focal segmental glomerulosclerosis associated with invasive thymoma. Ther Apher Dial 2011; 15: 210–1. DOI: https://doi.org/10.1111/j.1744-9987.2010.00871.x
Illeperuma PB, Jayanaga A. A rare case of focal segmental glomerulosclerosis in a patient with grade a benign thymoma: A case report and review of the literature. J Clin Case Rep 2016; 6: 794. DOI: https://doi.org/10.4172/2165-7920.1000794
Jayasena SD, Woolfson RG, Griffiths MH, G H Neild. Nephrotic syndrome, malignant thymoma, and myasthenia gravis. Case report and review of the literature. Am J Nephrol 1995; 15: 361–3. DOI: https://doi.org/10.1159/000168865
Lee JC. The Association of Cancer and the Nephrotic Syndrome. Ann Intern Med 1966; 64: 41. doi:10.7326/0003-4819-64-1-41 DOI: https://doi.org/10.7326/0003-4819-64-1-41
Couser WG, Wagonfeld JB, Spargo BH, Lewis EJ. Glomerular deposition of tumor antigen in membranous nephropathy associated with colonic carcinoma. Am J Med 1974; 57: 962–70. DOI: https://doi.org/10.1016/0002-9343(74)90176-4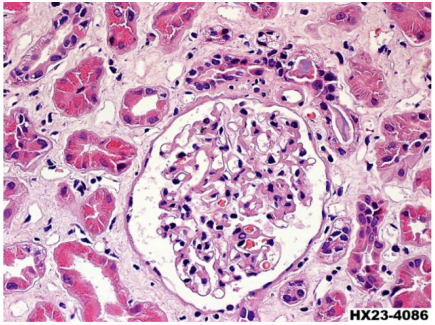 How to Cite
1.
Koomtanapat K, Watcharahirun S, Weerachinachote K, Lertanansit C. UNUSUAL PRESENTATION OF MALIGNANT THYMOMA ASSOCIATED NEPHROTIC SYNDROME WITH FOCAL SEGMENTAL GLOMERULOSCLEROSIS: A CASE REPORT. J Southeast Asian Med Res [Internet]. 2023Jul.18 [cited 2023Oct.1];70:e0173. Available from: https://www.jseamed.org/index.php/jseamed/article/view/173
Copyright (c) 2023 Journal of Southeast Asian Medical Research
This work is licensed under a Creative Commons Attribution-NonCommercial-NoDerivatives 4.0 International License.
The Journal of Southeast Asian Medical Research will hold the copyright to all published articles. Copyright forms are handled by the publisher's production department once a manuscript is accepted and scheduled for publication.